2022 HKDSE Results
Sustaining Academic Brilliance in HKDSE 2022
During the HKDSE period, the pandemic was wreaking havoc in Hong Kong and bringing with it many uncertainties that could have seriously affected candidates' study plans; however, Hoi Ping students still delivered delightful performances this year.
This year, among the 127 Hoi Ping candidates, 27.8% of them achieved level 5 or above in all subjects and 63.9% level 4 or above, whereas the territory statistics are 13% and 35.6% respectively. Also worth mentioning is that 18 students scored 28 and above, 12 of them even scored 30 and above. We are pleased that 87.6% of Hoi Ping students attained the 33222 university entrance minimum requirement, which has surpassed the territory-wide statistic (36.7%) by a wide margin.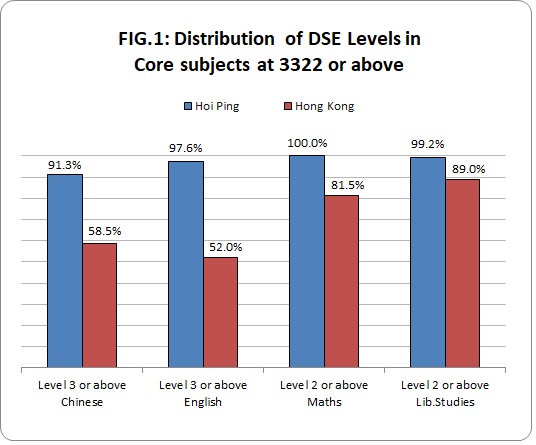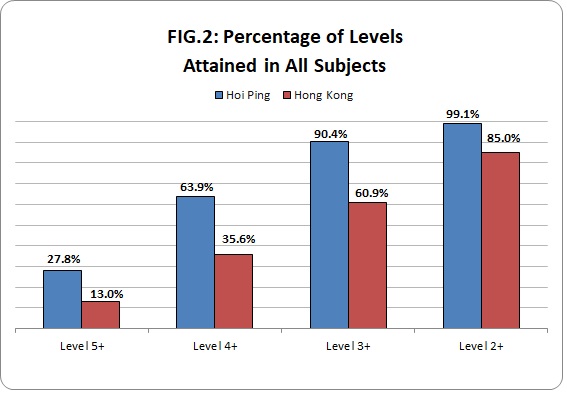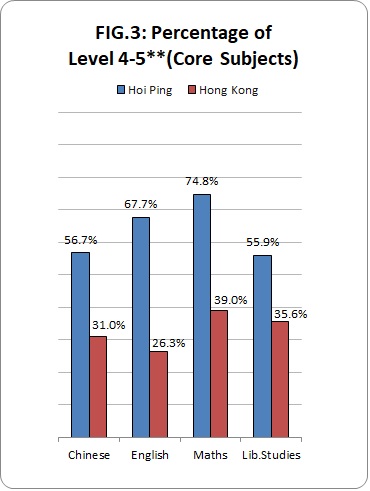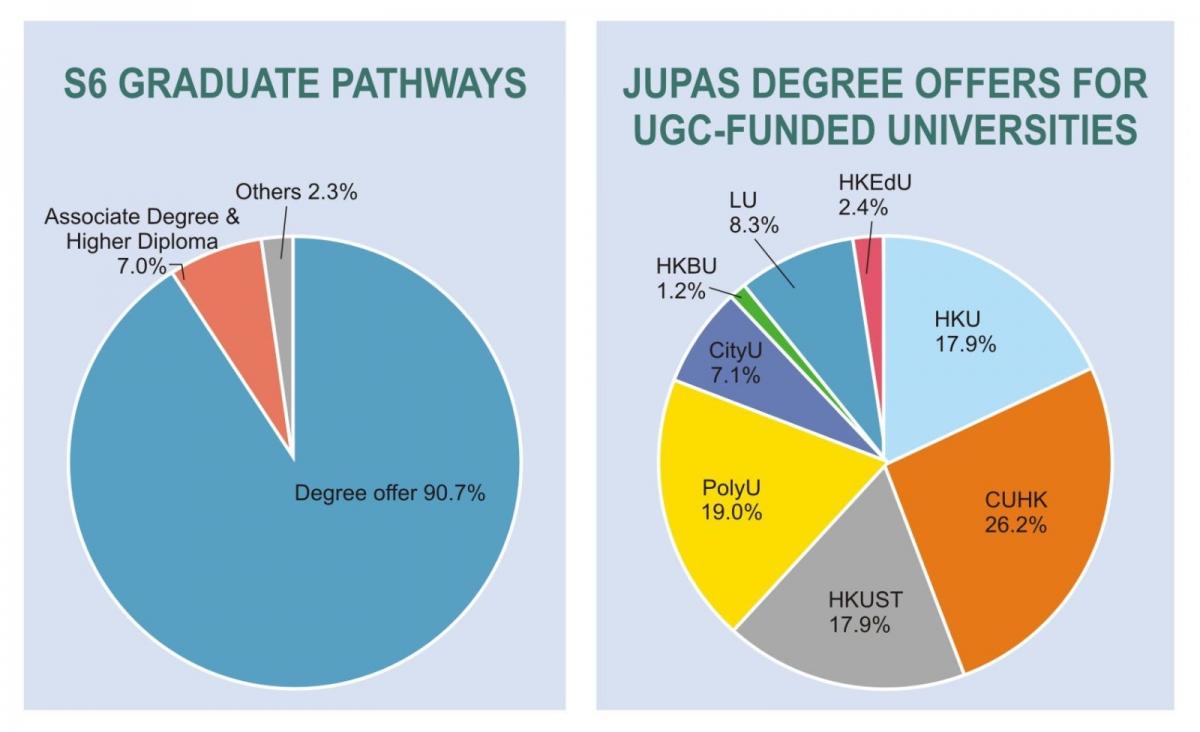 Interviews with students
S6B Lam Ho Ting (Kathy)
Kathy has taken home three 5** in the HKDSE, one in Mathematics (core part), one in Mathematics M2 and the other in ICT. She sets her sights on HKU Dentistry as she has developed an interest in oral healthcare.
When asked how she would describe her exam experience, Kathy highlights the importance of a support network. She is grateful for having friends who were willing to study together, so she would feel less alone and it was good to know there was someone being in the same boat. She also thanks her family for their unwavering support during the exam; even though they could not offer much study advice, they were always ready to listen to her, trying to understand her troubles.
Since peer support is important to Kathy, she suggests that students take advantage of technology. When preparing for writing assignments, for example, she would set up shared documents with friends online so they could exchange ideas and point out what was lacking in each other's ideas.
S6B Choi Yat Long (Scott)
Scott has bagged three 5** in Mathematics (core part), Economics, and Physics. With a strong background in maths, he would like to study Quantitative Finance at university.
Due to his interest in maths, Scott opted for Mathematics M2 (Extended Part Module 2) as an elective. His advice for Hoi Ping students who are not sure about taking M2 is that it has helped him understand plenty of mathematical concepts, so they need not feel put off by the prospect of studying an extra elective.
For exam preparation, Scott recommends that students have enough sleep and exercise. These habits helped him relieve stress during the DSE--he ensured he had at least six to seven hours of sleep, and the results were obvious.
S6A Lo Siu Yeung (Cindy)
Cindy scored two 5**, one in Chinese and one in Liberal Studies; with her impressive results, she aims at HKU's double degree programme, Bachelor of Arts and Bachelor of Laws.
To many candidates, the Chinese exam could be challenging. For Cindy, to prepare for it, she made consistent effort in senior secondary so that she could reap the accumulated benefits right before the DSE: jotting notes, forming study groups, and maintaining a favourable environment for revision. She also trained herself to be sensitive to ideas which could serve as exam contents in her daily life, like gathering examples in social media to enrich her writing.
Cindy stresses the importance of learning as a community: she would feel encouraged and learn a lot from friends even when tackling a subject she didn't like. Therefore, she was able to climb the academic ladder and improved her results!
S6B Wong Chiu Ming (Kenny)
Kenny maintained a high level of performance in all DSE subjects, attaining one 5** in Liberal Studies and 5* in six other subjects. He aspires to become a teacher and would like to enrol in a Chinese Education programme due to his passion for Chinese culture.
Kenny's meticulous personality explains his good performance in the DSE, such as good inventory keeping. He organised past papers not by year but by topic, so it would be easy to make connections between chapters. He suggests that students start working on internal mock exam papers in December, so they can have enough time to work on mock papers from other sources during the study leave.
When recalling his exam experience, Kenny adds that he used to rely a lot on examples in Chinese writing assignments, but in the DSE, he could not do so because of the question's nature. More important is to display your elaboration and writing techniques in order to stand out from the crowd!
2022 中學文憑試學生成績綜合匯報
迎難而上 保持優勢
本年度香港中學文憑考試在疫情的陰霾下告一段落。疫情肆虐,全港莘莘學子無一不受影響。然而開平學生依然迎難而上、頑強拼搏,能夠保持一貫優勢,表現依然可喜。
本年度共有127名學生參與中學文憑考試,考獲5等及4等或以上水平的比例分別為27.8%及63.9%,相較全港水平(5級13%、4級35.6%)表現理想。開平同學一向發展全面,中英、文理兼擅,本年亦有不少學生成績斐然。18位同學取得最佳五科28分或以上,當中更有12位同學取得30分或以上。達到大學最低入學要求(33222)的學生比例(87.6%)同樣遠高於全港水平(36.7%),實在令人鼓舞。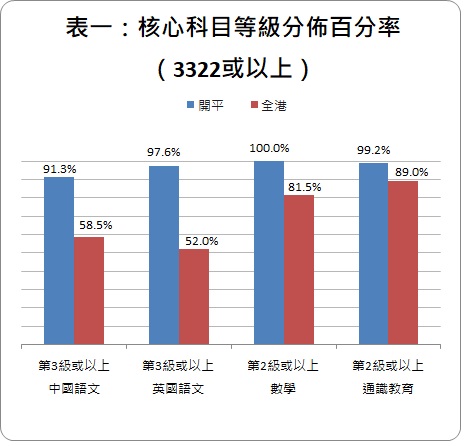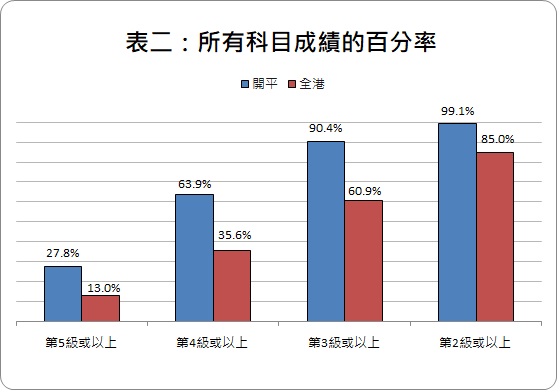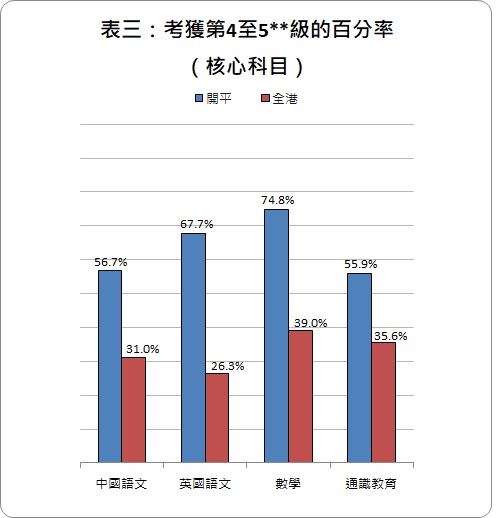 中六乙 林荷庭
林同學成功在文憑試取得三科5**,包括數學(必修部分)、數學延伸部分單元二、資訊及通訊科技科。自小在口腔護理方面建立興趣,荷庭希望入讀香港大學牙醫學士,盼能實現兒時夢想。
談及預備文憑試的經歷,荷庭特別看重與伙伴同行,慶幸身旁好友願意一同學習,互相砥礪,以收同舟共濟之效,同時有助緩解獨處的孤單。荷庭也感恩家人在備試期間堅定不移地支持她,儘管家人未必能夠提供學習建議,但樂於聽她傾訴、嘗試理解她的難處、為她排難解憂就儼如避風港,絕對有助她順利面對逆境。
荷庭認為同儕的支持與互助非常重要,她建議同學宜善用科技,例如在學習寫作時與同儕經由網上分享筆記,交換寫作意念,藉以取長補短、見賢思齊。
中六乙 蔡日朗
蔡同學成功奪得三科5**佳績,包括數學(必修部分)、經濟科及物理科。日朗擅長數學科,希望能在大學修讀計量金融學課程。
由於日朗對數學深感興趣,高中選修數學延伸部分單元二,認為這能讓他培養數學興趣,有助理解不同的數學概念。必修部分與延伸部分確實相輔相成,日朗認為學弟妹毋須擔憂多讀一科帶來額外負擔而卻步選讀延伸單元。
談及備試過程,日朗建議考生維持充足睡眠和運動習慣,有助紓解備試壓力,因此他確保自己每天最少有六至七小時睡眠。勞逸結合能為日朗在文憑試奪取佳績鋪設康莊大道,所幸成效亦見顯著。
中六甲 盧霄陽
盧同學文憑試表現出色,成功在中國語文科及通識科取得5**佳績,目標入讀香港大學文學士及法學士(雙學位課程)。
不少考生可能在中文科備試過程遇到一些挑戰。霄陽自從高中以來堅持不懈,透過摘錄及整理溫習筆記、與同儕構建學習小組、營造良好的溫習環境,藉以提升學習成效。霄陽能夠持之以恆、積累所學,終能在文憑考試取得豐碩成果。此外,霄陽亦有培養敏銳的觸覺,訓練自己從日常生活多觀察和聯想,例如在不同社交媒體積儲意念,藉以豐富寫作取材與意念。
霄陽認為學習社群至關重要,感恩在求學道路得到不少良師益友的鼓勵,驅使自己有勇氣解決學習疑難,從而能使學業成績更上層樓。
中六乙 黃昭銘
黃同學在文憑試各科維持卓越的表現,於通識科取得最高的5**等級,並於另外六科取得5*等級。昭銘從小熱衷學習中文,因此立志成為中文教師,憧憬入讀相關學系,透過教育傳揚中華文化,達致薪火相傳,可謂任重道遠。
昭銘能在文憑試取得理想成績,離不開其個性認真、處事嚴謹,例如他能細心整理學習筆記。一般考生按年份完成歷屆試題,昭銘則按課題先將試題清楚分類,有助歸納不同課題的知識,理清箇中關聯。昭銘建議考生先從校內模擬試題着手,並且盡早在十二月起步,爭取充足時間在學習假期內完成更多試題,提升應考能力與信心。
回想過往的經歷,昭銘一直以來用心積存許多中文寫作的論據。儘管應考時受限於考題,昭銘仍能充分闡述論據與議題的關聯,恰當運用寫作技巧,最終取得5**佳績。學習語文實非一朝一夕,昭銘寄語同學宜持之以恆地積累所學,便可學有所成,能在語文科目脫穎而出。