2016 HKDSE Results
2016 HKDSE Exam Results Report
2016中學文憑試學生成績綜合匯報
Hoi Ping students have brought home the most outstanding results in five years in the Hong Kong Diploma of Secondary Education Examination (HKDSE).
開平中學的學生於本年香港中學文憑考試中獲取的驕人成績是五年之最。
Our statistics have been on the rise since the first HKDSE. In 2016, they have soared to an unprecedented height: 30.3% of Hoi Ping students obtained level 5 or above, a 10% increase compared to 2012. The percentage of students obtaining level 4 or above is 70.6%, which is a huge leap from 55.3% in 2012. The percentages of level 3 or above and level 2 or above are 95.5% and 99.5% respectively. 92% have attained the university entrance minimum requirement (33222). Comparing our school's results with the rest of the HKDSE candidates', Hoi Ping students fared much better, especially in the following aspects: 74.5% of our students scored 19 or above in their best five subjects, while 43.5% of them scored 22 or above. The percentages of Hong Kong candidates achieving the same results are 27.5% and 15.7% respectively.
根據我校的成績統計,這年文憑試再創高峰:30.3%的學生獲取等級五或以上的成績,較2012年上升10%;而獲取四等或以上的學生則有70.6%,相比2012的55.3%大有提升。另外,考獲三等及二等或以上的同學分別有95.5%和99.5%。整體來說,達到大學入學最低要求(33222)的同學高達92%。相較於全香港的公開考試成績,我校文憑試考生的成績表現卓越:74.5%的中六生在最佳五科中考獲19分或以上,更有43.5%的學生獲取22分或以上;遠高於全港考生在最佳五科中考獲的27.5%(19分或以上)和15.7%(22分或以上)。
This year's HKDSE result release day was a victorious moment for many Hoi Ping students as the overall performance of the whole Secondary 6 has reached a record high. There are also a number of students who did extremely well. Ng Hiu Lam (6B) takes the lead with a total score of 35, having obtained 5** in five subjects. See Hiu Wah, Wong Chun Ho and Mak Pak Ho, also from 6B, gained three 5**. Gifted in languages, So Wing Yi (6A) obtained two 5** in Chinese and English. These students' consistent academic performance and diligence in school helped them secure the highest accolades in the HKDSE. A special mention should be given to Ko Kit Yan from Class 6D. Diagnosed with systemic lupus erythematosus (also simply known as lupus), she was absent from some school days and the entire mock exam; not giving up, Ko invested her utmost effort in studies while fighting with illness. In the HKDSE, she sat all exams and obtained satisfactory results: one level 5*, two level 5 and one level 4.
今年香港文憑試的放榜日是不少開平同學豐收的時刻,中六同學整體的表現是五年來最為出色,當中更有幾位同學的成績非常出眾。中六乙班吳曉琳的成績最優秀,考得5科5**共35分;僅次於她是同樣來自六乙班的史曉樺、黃俊皓和麥栢豪,考獲3科5**。至於語文方面,中六甲班蘇穎誼分別在中文及英文科取得5**的佳績。這些同學之所以能在文憑試中取得驕人的成績,全賴他們一直以來在學校勤奮向學,名列前茅。在此特別表揚中六丁班的高潔欣,她被診斷患上紅斑狼瘡症後缺席上課一段日子,更缺考了校內模擬試。但她憑着不屈不撓的精神,高同學用堅毅的意志來抵抗疾病,最終她在文憑試中取得理想成績:考獲1科5*,2科5及1科4等。
Congratulations to all students who did well in the HKDSE!
在此再次恭喜在香港中學文憑試中考獲佳績的同學!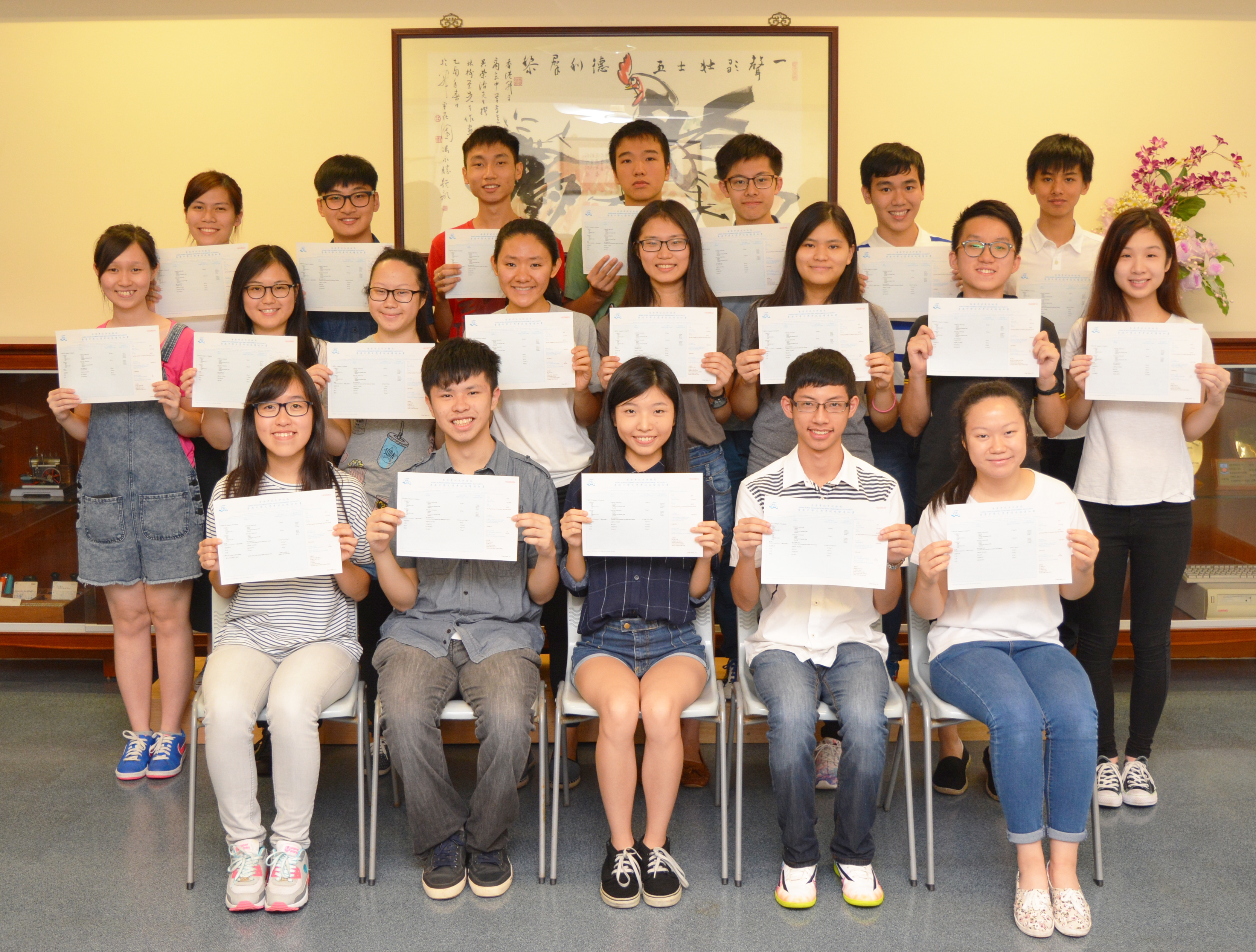 Outstanding Students